MeowMeow~
Taraa.. reception photos of Dr Sheikh Muszaphar & Dr Halina..let's take a look at their reception pics..
*credit to beautifulnara.com & gua.com.my
WEDDING RECEPTION DR SHEIKH MUSZAPHAR & DR HALINA
10.10.10 Wedding Reception @ PICC Putrajaya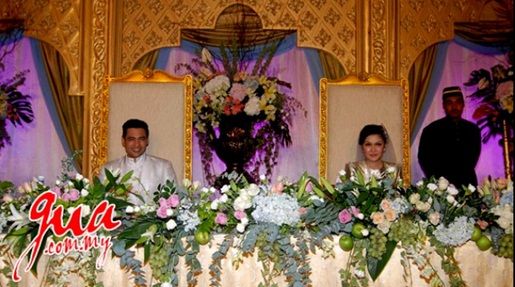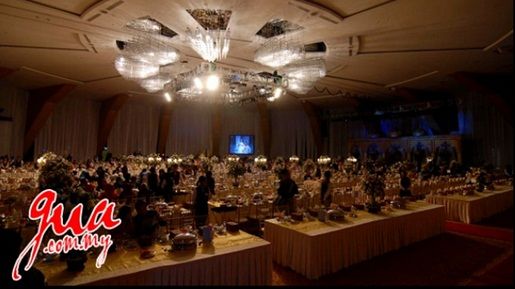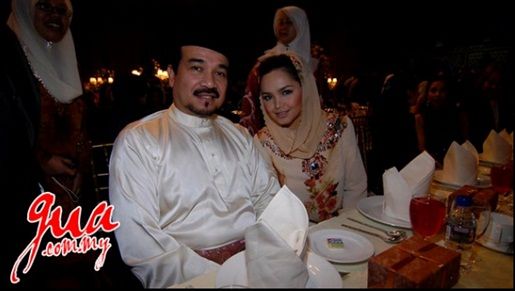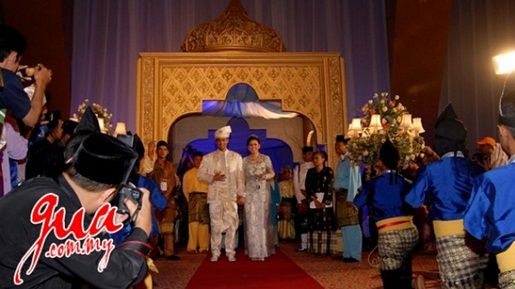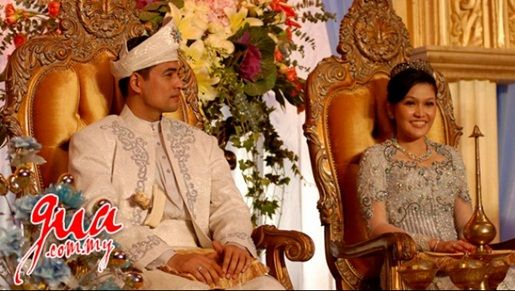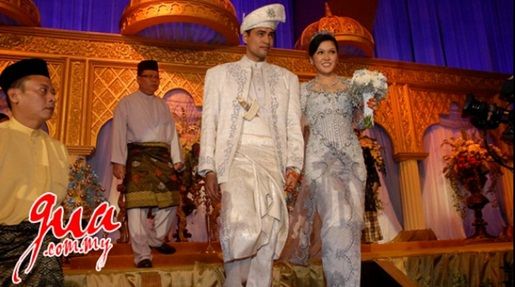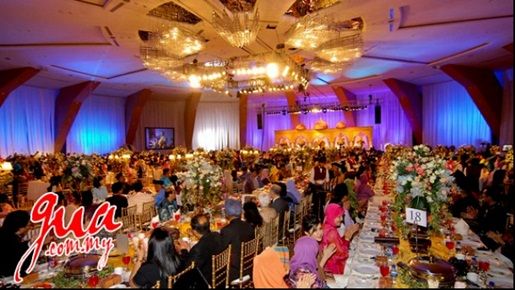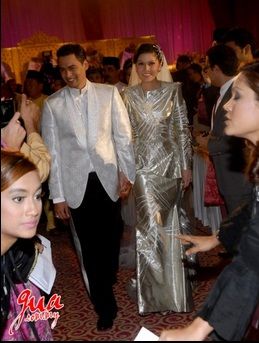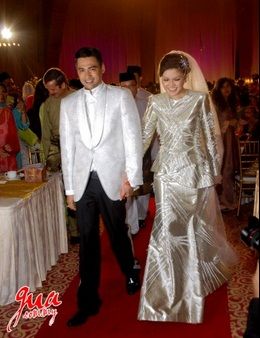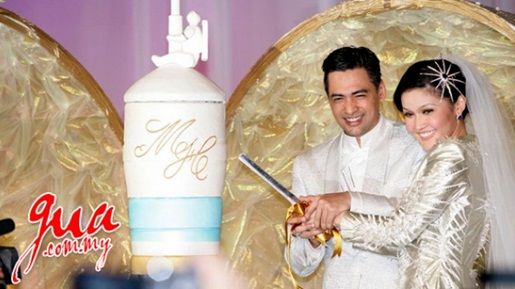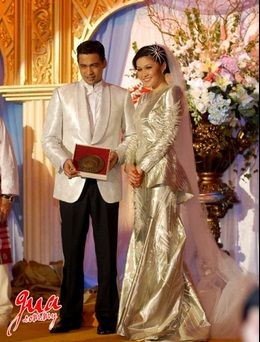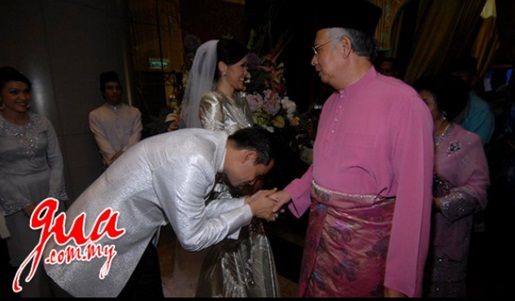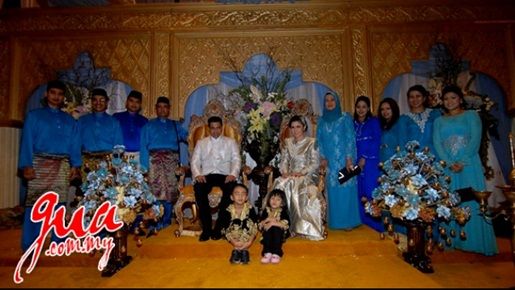 Chantek mmg chantek, tp... Ehem, ade a few things yg i nak comment.. i rase mcm wedding dorang xgaya mcm "wedding of the year". Kalau pics kat sini xnmpak, sape2 yg tgk tv3 ahad mlm tu baru bleh nmpak the whole outlook of wedding tu.. My opinion, sponsor aka wedding planner x buat all out.. so here are the things i yg membuatkan i kechewa, cos i mmg menaruh harapan n high expectation for their wedding...huhu~
1. PELAMIN :

pelamin ok, tp nmpak gelap n malap.. why xde chandeliar ke.. xde fairy lights ke.. design? ok la untuk kayangan tue.. but dorang patut tambah more drapes biar nmpak "kayangan" dia tue... carpet kuning tu plak mcm xchantek ler.. kalau pakai putih n sparkle2 baru la kayangan...
2. HALL :

hall nmpak kosong.. since ni wedding theme "KAYANGAN".. naper xletak fairy lights ker jadik mcm bintang2.. xpun wat ceiling mcm kat subang airport tu...baru ade 'space feel'. Kalau buat mcm awan2 kat dinding hall i rase mesti nice.. x pun kalau letak hanging deco mcm moon and stars pun ok.. Lampu purple n blue tu dah chantek.. normally kalau reception mase entrance dia kasi off lampu n spot light ke pengantin tu... ni x, dorang biar je terang mase pengantin masuk n nmpak lah org2 keliling kelam kabut sana sini... rosak view ler..
3. AISLE/WALKWAY :
as i mentioned earlier, hall nmpak kosong.. i suggest letak ler gerbang or gazebo tgh2 walkway tu.. or flower stand byk2 sket and besar... buat la hanging deco ke ape..ni x nmpak kosong jer..
4. BAJU 1st :

baju untuk masuk dewan n sanding is ok lah.. better than baju nikah.. tp could have done better dgn tambah veil ker ngan more bling2... Baju Dr Sms still nmpak besar terkeluar bahu.. or is it meant to be that way?
5. BAJU 2nd :

cake cutting dress... ZOMGGG!! c'mon bernard chandran is this the best you can do? of all designs n material yg ni gak dia wat Dr halina pakai? whyyyy.... i terkejut tgk dress tu.. i know nak wat space theme.. but, whyyyy... material nmpak cheap n nampak xchantek on tv..im sure Dr Halina xcomfy pakai material mcm tu, nmpak keras.. he can still use lace n different design but not this..ni nmpak mcm student punye project for space theme.. my best suggestion is like this one, by zuhair murad..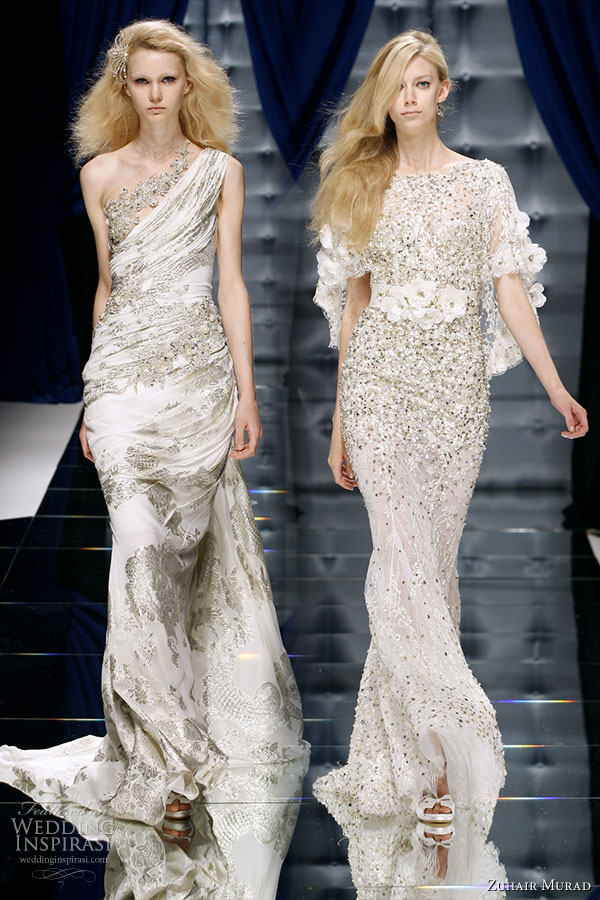 5. WEDDING CAKE :
Hurrmm... cake ok.. unique by Gateauxlicious xsilap, i heard kat tv.. tp d background yg bende bulat tu spoiler ler.. another projek budak sekolah..! huhu~ i know ler nak sempena angkasawan thingy, but, wat they can do is buat wall panel, pastu letak la pics2 Dr SMS mase journey dia tu.. mcm photowall.. kan lagi nice camtu..baru simple n xnampak lawak. bende tu mcm spoil ler n nmpak cikai.. sape laa yg wat tu.. *geram*
6. ENTERTAINMENT :
entertainment ok.. tp heard ramai org xsuke yg selawat soprano tu.. i dgr ok jer.. ;) lagu2 tradisional pun ok..
7. FLOWER ARRANGEMENTS :
xnmpak grand n pop out.. flower arrangement nmpak bersepah n xcukup bunga..wedding planner mcm buat tergopoh gapah n result dia xchantek.. i suggest bykkan bunga n arrangement dia biar nmpak full.. n letak ler stars dangling ker.. xpun pakai lampu ikea yg berjurai tu.. pastu deco byk2 bunga keliling dia.. walah done~
8. DINING :
food nmpak sedap..cos dlm tv sumer pinggan licin..hehe.. d best thing i like is the CHIVALRI CHAIRS.. huhu chantekkkk.... Table centrepieces, isk refer comment no.7 ;p
9. MAKEUP :
argh yg ni paling geram.. makeup Dr Halina looks, sgt biasa.. xnmpak mcm makeup untuk wedding. whyyyyy *tarik rambut*.. naper la MUA x wat something extraordinary biar nmpak da-bomb sket time reception.... adakah MUA seperti Ayang Kamell, Epie Temerloh, Nurul Shukor dan seangkatan tak available time tue?? I agree Dr Halina mmg chantek n cute n putih orangnyer,tp i rase time wedding ler u nak nmpak different n biar ur new hubby n guests terpegun..huhu~ her makeup xinspiring at all.. normally kalau wedding mesti bile tgk makeup, kita akan tanye"ey ey sape yg makeup u eh? lainnyer u.. chantek.. bagi la contact MUA tu.."... but for Dr Halina punye makeup, mcm xrase nk tanye ape pun.. huhu~
Haa.. ni la dia ketidakpuashatian ku untuk wedding dorang ni.. mmg la chantek.. tp as i said dlm post before, everything could have been done much2 n waaayy better. I think Cosry and team x buat all out..maybe budget pun xbyk kot.. tp, kalau difikirkan budget xbyk, bleh plak import sumer brg2 pelamin n bende besar2 tu dr indon? ntah ler..

To Dr Sheikh n Dr Halina, congratz, u guys are beautiful and ur wedding is beautiful.... but im sorry, bukan nak condemn or kutuk ke ape, it's just that im quite dissapointed because it didnt met my high expectations.. As a wedding lover, i tgk all the details.. huhu~ maybe wedding planner xpatut heboh2 about theme n reception ni kat umum, bila org da tau.. semestinyer org expect yg grand2.. since dah nama pun "Wedding of the year".. dah pulak wedding our 1st Astronaut kebanggaan kite kan..
meowluv~
Renee meow
http://reneemeow.blogspot.com
http://reneemeowwedding.blogspot.com
http://reneemeowshop.blogspot.com